Animals
The subject of animals has categories such as: zoo animals, pets, farm animals and jungle animals. Furthermore, animals are also taught by using songs,stories and literature.
You might also like...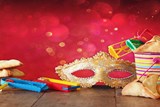 Purim
The festival of Purim is celebrated every year on the 14th of the Hebrew month of Adar.This is the holiday in which Jews commemorate being saved from persecu...